Life gives you a present on Bali
Life gives you a present on Bali - make sure you remember to unpack it.
This is my very first blog and am I excited to share with you my Life Path interests and passion for all I believe in. My blog will start here and unfold it self as I have time being away from every day life at home.
Being on the road with my sweet family for 6 weeks holiday, a journey we have saved for and planed for for many years by now. All ready as Sean was a baby Thomas and I made each other a promise that we would take a long holiday as a family before Sean would start kindergarten.
It is now and we have enjoyed the first week of traveling, started out in Singapore to acclimate for the warm weather and being on Bali for a few days by now. Bali the island that Lonely Planet travel book describes as "The mere mention of Bali' evokes thoughts of a paradise. It's more than a place; it's a mood, an aspiration, a tropical state of mind."
Yes we are getting into the Bali state of mind "relaxing"and our sweeties Sean and Zoey feels at home at our "away from home - home" which we have booked through air b&b - Rene's lovely place which we have the pleasure of enjoy our first 10 days here at Sanur beach.    
PHOTO...........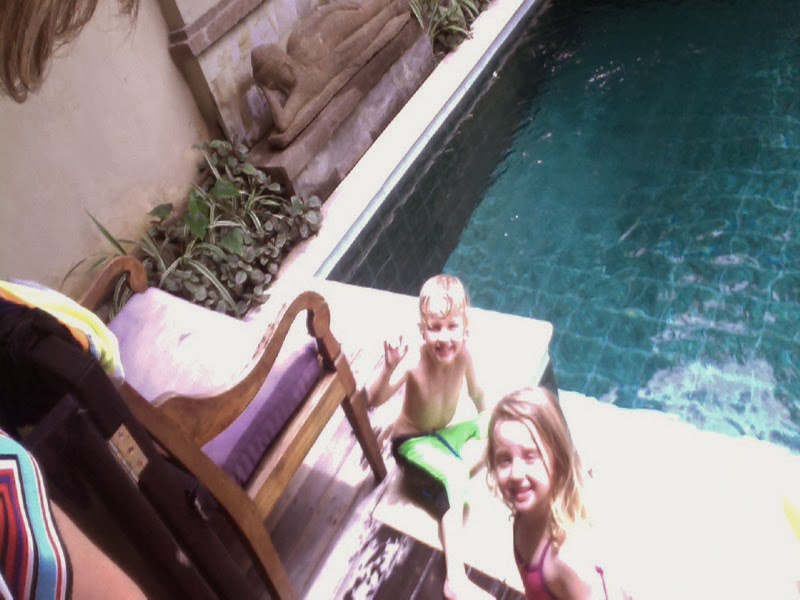 Sean and Zoey by the pool side playing and having fun.
This is a gift for life that we have given us as a family and we will for sure look back on it many years to come. So what will Bali unfold for us during this 30 days we are here to nourish our self and us 4 as a family! 
I was here exactly 20 years ago as I traveled around the world being 20 years old and being back here just turned 40 years old and this time with my family. Amazing there are just placed you have to return to and I am sure that by the end of this journey I know why!
Stay with us and I will share with you all our interesting stories and adventures that we are to have being on Bali this paradise island. 
Adventures we have had and that I will share: we visit the Bali Zoo and had an elephant ride, as a family we visit a Balian - Bali's traditional healers. This I am really looking forward to share with you being a practitioner of Chinese Medicine and on the search of "what is healing"!